You have invested in a robotic lawn mower !
Protect it well with the apppropriated garage
You took the plunge! You have invested in a robotic lawn mower. You have made your choice, payed attention to comparative tables: a new friend will take care and pamper your lovely greenery. You finally can spend more time to other gardening tasks or just relax!
However, don't forget to protect your robotic lawnmower and its base station in order to avoid pricey misadventure.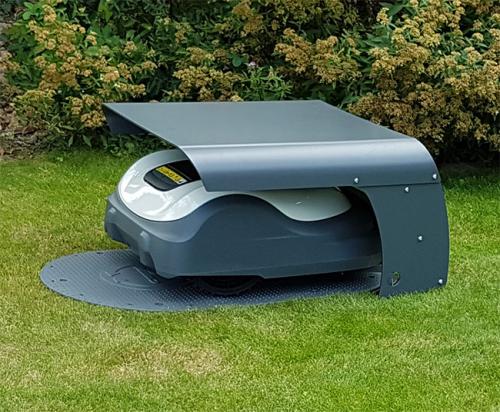 Protégez votre robot tondeuse des intempéries
Get the best return on investment and enjoy your garden !
Enjoy your garden
your robotic lawnmower and Robot Protect take care of everything.
Sun
Indeed, your equipment will safe from sun's ultraviolet rays (and moon).
Thanks to its design, the air continues to circulate helping the good ventilation preventing from heat and humidity. If the battery is working with a temperature exceeding 30°C, the lifetime will be reduced by 20%. In the full sun, at 40°C lifetime is reduced to 40%. Robotic lawnmower screens are also very sensitive to the sun.
Protect your equipment against heat will really help to achieve its optimum life expectancy and even extend it.
Rain and sudden showers
Dangers from the sky are various: thunder, hails, falling tree branch, tiles…
Rain and sudden showersMost of robotic lawn mowers are water resistant. Nevertheless, electronic circuits dislike humidity even more for an extended period of time. Generally, your robot stays at least 16 hours per day on its charging station (mostly set for working 4/5 days per week and few hours every day). Our Robot Protect is designed to let a good air circulation (recommended by the robotic lawn mower constructors).
Hails, thunder and falling tree branch
Without our Robot Protect, you are exposing your robot mower to those dangers and can cause serious damages to your machine or charging station. Good quality and resistant, our garage will protect them against those risks or at least reduce the damages.
Prying eyes and tossed balls
If your robotic lawn mower is outside day and night unattended, it may become an easy target for thieves. Even new models had an anti-theft system, robotic lawn mower can be considered as a sign of wealth and as the French proverb says: to live happily, live hidden.
 Your neighbour kids or yours love play balls in the garden. Strength and accuracy may not always under control, it may possible that the ball hits severally your equipment (and not only once).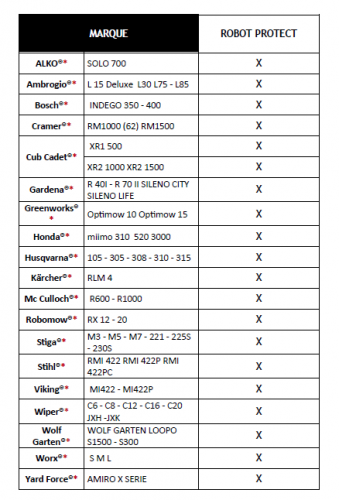 You've got it, a robotic lawn mower garage is essential!
Our multi brands garage
Multi-brands, our Robot Protect is both adapted for machines with lateral outlet or back up from the base station.
Dimensions (Length Width Height: 65 x 65 x 40 cm and max. height for the robot 37 cm) meet the standards and fits the large majority with the robotic lawnmowers that you can find on the market.
Please see below a compatibility table (non exhaustive list, if you don't find your machine, feel free to contact us by email contact @ garden-equipment.fr , it will be a pleasure to reply you).
Our robotic lawn mower shelter
*This product ROBOT PROTECT is compatible with the brands mentioned (trademarks owned by third parties and don't have any relation to the company GARDEN EQUIPMENT and its businesses).
They are used for ease of reference only and for inform to the customers the compatibility or the origin of the products presented.
Useful and aesthetic, our robotic lawnmower garage exists in 2 models (anthracite grey & light grey and light grey and black). Manual in hands, few minutes will be enough for mounting it and keeps your robot dry.12 anchoring points ensure a secure fastening.